Heavy Water Vodka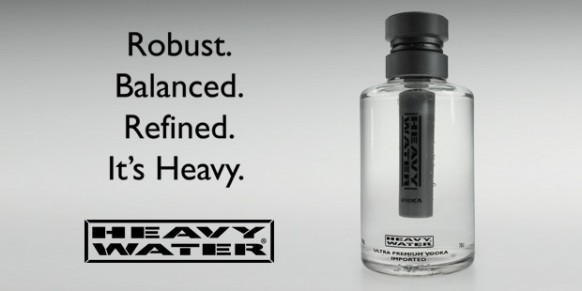 NEW TO ADVINTAGE BRANDS!
HEAVYRECIPE     An artisanal spirit, hand-crafted from a master Norwegian vodka recipe utilizing Scandinavian-grown winter wheat; Heavy Water is a clear, medium-to-full bodied vodka that is rich, balanced and smooth with definite herbal and spicy notes of fennel, toasted almonds and orange.  Lush and delicious.
HEAVYINSPIRATION     Made is Sweden at the Bloomberg estate near Kallby, on the shore of Northern Europe's largest glacier-fed underground lake, Heavy Water Vodka has the unique taste of Sweden in every sip.  The award-winning spirit is housed in Saver glass, highlighting a stunning hand-crafted aeration rod which bears the Heavy Water logo.  The aeration rod infuses oxygen into every pour similar to decanting and swirling a fine wine in a glass.  Aerated aromatics and flavours bring out Heavy Water's vodka aroma and taste.
HEAVYWATER is a two-time gold medal winner and has been awarded 94pts by the Beverage Testing Institute
Available Products
750 ml (6 Bottle Case)
CSPC #753814