The Infinite Monkey Theorem (Colorado)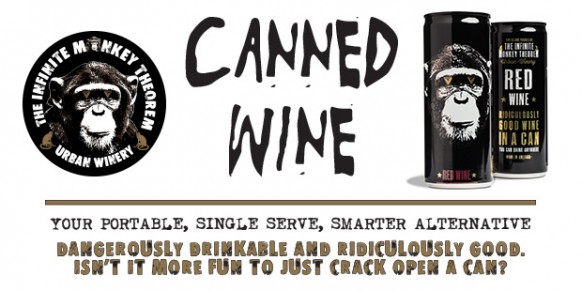 The Infinite Monkey Theorem wines are a premium segment leader within the millennial demographic. We are truly craft in the wine category. An authentic story, great packaging, and most importantly, approachable and highly rated wine.
MOSCATO WINE
Fresh and lively, offering floral, peach, citrus and slate flavors. It's well balanced and integrated with a crunchy, mouthwatering after taste of lime and mineral. Fun for spring and summer.
WHITE WINE
This crisp, bright beauty screams summertime. The wine is a clear, light straw color with aromas of fresh herbs and citrus. One sip and you'll be swept away to a warm, breezy beach. Zesty notes of meyer lemon, key lime and meringue combine with a hint of hazelnut on the end.
RED WINE
A combination of raisin, tobacco and portobello mushroom fill the nose, yet the palate is filled with black cherry and vanilla, backed with cocoa and dried fig. Robust tannins help give this wine an almost gamey note.
Available Products
White, USA 250ml Can
CSPC #802433
Red, USA 250ml Can
CSPC #802434
Moscato, USA 250ml Can
CSPC #802431