Australian Legend Wines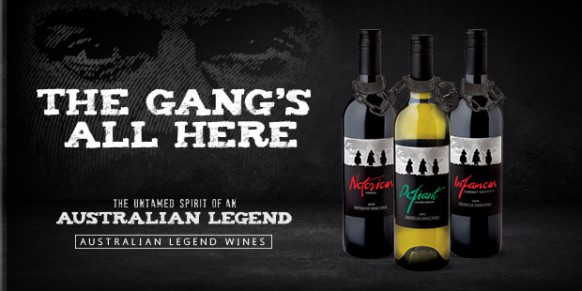 The Legend Continues...

'SUCH IS LIFE'
Said the infamous Ned Kelly – a true Australian Legend. Some called him a notorious outlaw. Some called him a hero of the common man. The truth has been argued for more than a century...That's legendary.
The untamed spirit of the Ned Kelly gang lives on in the essence of this premium wine created by acclaimed winemaker Gavin Hogg;  the 2008 Notorious Shiraz, the 2009 Infamous Cabernet Sauvignon and the 2012 Defiant Chardonnay.  This wine is made with fruit grown from vineyards in Victoria, Australia the State still known as Kelly Country to this day. 

To learn more about the Legend and the Wines visit the website!

Available Products
2008 Notorious Shiraz
CSPC #753926
2009 Infamous Cabernet Sauvignon
CSPC #753925
2012 Defiant Chardonnay
CSPC #753924